Our Story
We Are Rollins Construction
At Rollins Construction, we are dedicated to providing our clients with exceptional construction services that bring their vision to life. Proudly based in Southeast Texas, we have earned a reputation for delivering top-notch results that will stand the test of time.
Founded by John Rollins, a seasoned construction professional with over 20 years of experience in the industry, Rollins Construction was born out of a passion for creating beautiful and functional spaces that enrich people's lives. From humble beginnings as a small local business, we have grown into a full-service construction company that caters to both residential and commercial clients, with a team of skilled professionals who are committed to delivering exceptional craftsmanship, attention to detail, and personalized service on every project.
What sets us apart from our competitors is our unwavering commitment to quality, from the materials we use to the techniques we employ, to the talent and expertise of our workers. We believe that a successful project starts with a solid foundation built on trust, communication, and collaboration with our clients, and we go above and beyond to ensure that every client is satisfied with the final result.
At Rollins Construction, we are not just builders, but partners in our clients' success, helping them turn their dreams into reality with our expertise, passion, and dedication. We understand that every project is unique and requires a customized solution that meets our clients' specific needs, budget, and timeline. Whether it's a new home construction, a commercial remodel, or a custom outdoor living space, we work closely with our clients to deliver exceptional results that exceed their expectations.
Our Values
What makes us the
area's experts?
Our team of skilled professionals bring a level of expertise and dedication to every project that is unmatched in the industry, with a deep knowledge of the local area and a commitment to delivering solutions that meet our clients' specific needs and preferences.
A Dedicated Team
Our team is more than just a group of employees – we are a family that is dedicated to providing our clients with exceptional service and top-notch results. Our workers are highly skilled and experienced professionals who take pride in their work, and are committed to delivering exceptional craftsmanship.
A Proven Track Record
We understand that building or remodeling a home can be a daunting task, which is why we prioritize open and honest communication with our clients, guiding them through every step of the process with professionalism and expertise. Our goal is to make the construction process as smooth and stress-free as possible.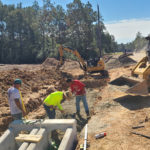 A Focus on Safety
Safety is paramount in every construction project we undertake. Our workers undergo regular training and education to ensure that they are up-to-date on the latest safety procedures and best practices, and we use only the highest quality materials and equipment to ensure that our projects are safe and durable for years to come.
We are proud to be a fully licensed and insured construction company, adhering to strict safety and quality standards to ensure the satisfaction and peace of mind of our clients. Contact us today to learn more about our services and how we can help you bring your vision to life.